Wisdom Teeth Removal
Wisdom teeth – the third molars at the back of our mouths – are the last teeth to grow out. They usually appear around the age of 18.  Our wisdom teeth aren't the smartest with navigation — they often grow out in the wrong positions! When they are prevented from growing out normally, they are impacted.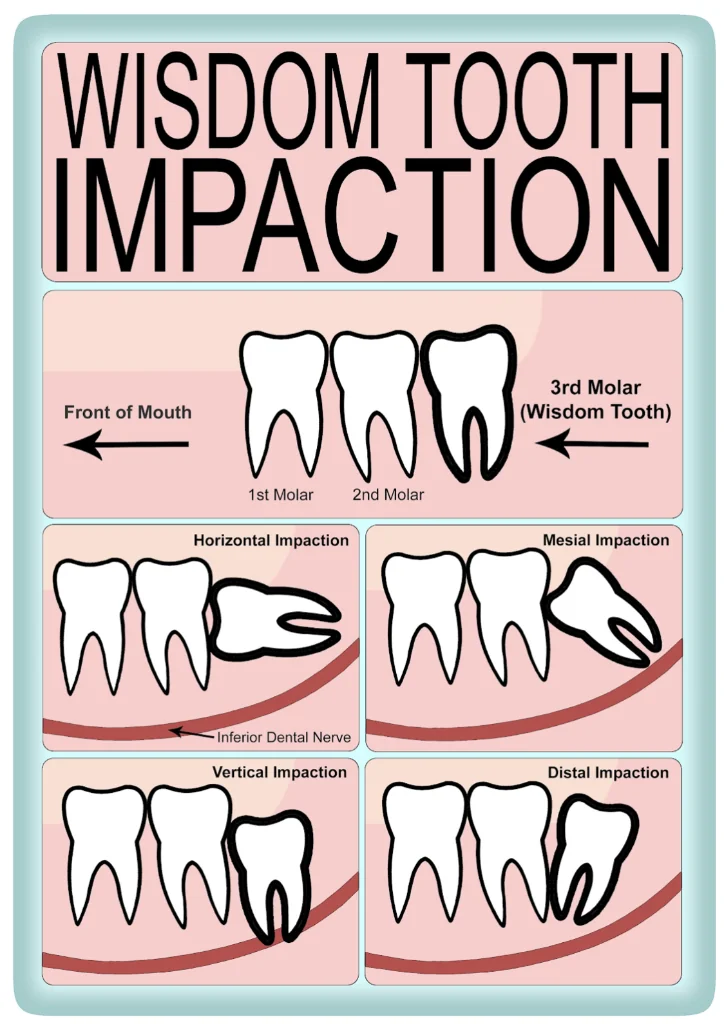 Wisdom tooth impaction, adapted from British Association of Oral & Maxillofacial Surgeons
Wisdom teeth often remain partially or totally covered, that's why we often require an x-ray to check for their presence and position. We will carefully analyse the x-ray and advise whether it needs to be removed, and if so, whether it requires an extraction or minor surgery.
Why do you need to remove impacted wisdom teeth?
Impacted wisdom teeth tend to trap food and consequently, bacteria. This can lead to decay and gum infection (periocoronitis), affecting both the wisdom tooth as well as its neighbouring teeth.
Some research has suggested that the developing wisdom tooth may lead to misalignment of the front teeth. After your braces treatment, we may also suggest the removal of your impacted wisdom teeth to prevent your newly-aligned teeth from becoming crooked.
How do you extract wisdom teeth?
The surgery process begins with the application of an anaesthetic solution to numb the area. Then, we will gently push away the gums to expose the wisdom tooth. Any bone covering the tooth will be gently removed. Following this, the tooth is slowly loosened and removed. If the wisdom tooth is located deep under the gums, we may need to divide the wisdom tooth into smaller pieces to remove it.
After the tooth is removed, we will reposition the gums to cover the space left by the wisdom tooth, then place stitches to hold it in place.
What is the follow-up care after my wisdom tooth surgery?
Post-surgical care is very important. We strive to minimise your discomfort by providing you with adequate pain medication. The gauze pack placed over the wound should be replaced as needed to control bleeding. We would advise soft diet or chewing on the other side of the mouth for the following 5 days. After one week, we will follow up with you to ensure that the recovery process is smooth.
While delivering the dental service to locals, Far East Dental provides the International Patient Service which brings the best dental experience in both quality & timing. We have been servicing international patients globally for over 15 years being one of the FIRST dental clinics in the dental tourism sector in Vietnam.
Inbox our official Facebook Fanpage  or contact hotline (+84 28) 22 44 8888 / (+84)925 249 249 (Whatsapp) to book an appointment today!
—
NHA KHOA VIỄN ĐÔNG | FAR EAST DENTAL
249 Lê Thánh Tôn, Bến Thành, D.1, HCMC, Vietnam
9h-19h, Mon-Sat (T2-T7)
(+84 28) 22 44 8888
(+84)925 249 249 (Whatsapp)
info@fareastdental.com